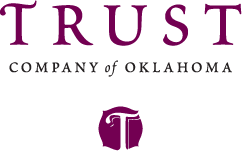 For Trust Company of Oklahoma Support, Please contact a Participant Services Representative at 866-239-1042
Oklahoma owned and locally managed, The Trust Company of Oklahoma is the largest independent trust company in the state, with over $2.4 billion in assets under administration. Because of our independent status, the company's professionals are free to make their decisions and recommendations based solely on the client's interests.
Members of the staff, most of whom gained extensive experience as senior officers of bank trust departments, are experienced and knowledgeable. Their decisions are based on a wide knowledge of investment options, sound investment policies, and an awareness of and responsiveness to changing situations. Our experienced staff of professionals includes four attorneys, four individuals who hold the Chartered Financial Analyst designation, three CPAs, two Certified Trust and Financial Advisors, one Certified Financial Planner, several MBAs and one Qualified Employee Benefit Specialist.
Dedicated to service, performance, independence, safety and confidentiality, The Trust Company prides itself on a personal relationship with each client. Open communication, careful record keeping and frequent consultation ensure that both the client and their trust officer mutually agree on any strategy undertaken. The Trust Company of Oklahoma's investment approach is one of careful analysis of future trends, constant reassessment of the factors affecting securities, and an attitude of healthy skepticism.
Services offered by the professionals at The Trust Company of Oklahoma include:
Investment management for individuals, trusts, foundations, charitable organizations and corporations.
Management of corporate employee benefit programs such as pension plans, profit sharing and 401 (k) plans.
Coordination of estate planning programs for the efficient transfer of assets from one generation to another.
Trustee and investment manager of Rollover Individual Retirement Accounts (IRAs).
Trustee for revocable and irrevocable living trusts.
Personal representative, guardian or conservator of estates.
Trustee of trusts established by a will.
Cash management programs for corporations, trustees and non-profit entities.
CONSOLIDATED BOARD OF DIRECTORS:
E. Murray Gullatt, Chairman, ATC**
W. Carlisle Mabrey III, President & CEO, Citizens Security Bank
Thomas W. Wilkins, Chairman, President & CEO
Tony Adair, Executive Vice President & CFO, F&M Bank and Trust Company
P. Peter Prudden, III, Investments
Gail Runnels, Attorney
Paul E. Kallenberger, Senior VP, TCO
Steven R. Duenner, CEO, Duenner & Company
James F. Arens, Senior VP and CIO, TCO
James R. McKinney, Senior VP, TCO
S. Trevor Kelly, President Spirit Bank OKC
Robert A. McCormick, Executive VP and COO, TCO
John A. Brock, Investments
**American Trustcorp, Inc. is the holding company for The Trust Company of Oklahoma
For More Information Click Here To Visit – www.trustok.com
---